Dr. Lee, Dr. Cardinale, Dr. Riordan
The brief descriptions below are designed to familiarize you with our team's training, professional credentials, and work experience.
Arnold J. Lee, D.M.D.
Dr. Arnold Lee is a 1997 graduate of Boston University Goldman School of Dental Medicine. Dr. Lee joined our team in 1998 and brought new ideas and enthusiasm with him. His upbeat approach to dentistry makes him a favorite for patients of all ages.
He enjoys all aspects of dentistry, with emphasis on cosmetic reconstruction. To stay abreast of ever-changing dental techniques and innovations, Dr. Lee participates in extensive hours of continuing education. Dr. Lee can transform your smile and enhance your overall appearance with highly esthetic Veneers, Crowns and even Botox injections.
Dr. Lee integrates the latest dental techniques and the most up to date materials into all his dental procedures. His certification in implant dentistry, orthodontics (invisalign, clear correct and cfast), periodontal plastic surgery, and dental lasers has made him a valuable asset to our practice. With Dr. Lee's previous membership in the Academy of Cosmetic Dentistry, his artistic dentistry has beautiful esthetic results with many happy smiles to show off.
Dr. Lee enjoys spending his free time golfing and dining out. He also loves traveling with wife and family.
---
Amanda Cardinale D.M.D.
Dr. Amanda Cardinale, a Massachusetts native, is a graduate of Endicott College and Tufts University School of Dental Medicine. She provides her patients with a gentle, caring, and comprehensive approach to oral health and believes in conservative and preventative dentistry. To stay up-to-date with new trends in dental care and cutting edge technology, Dr. Cardinale continues to pursue extensive post-doctoral training and is a current member of the American Dental Association and Massachusetts Dental Society. She is certified in both invisalign and Botox injections. In her free time outside the office, she enjoys spending time with family and friends, creating artwork and enjoying outdoor activities, such as hiking and skiing.
---
Drs. Lee and Cardinale have continuing education certificates in cosmetics, endodontics, oral surgery, dental implants, periodontal plastic surgery, laser dentistry, mini-dental implants, invisalign and other retainer orthodontics, teeth whitening procedures and occlusion. They are members of the American Dental Association, Massachusetts Dental Society, Academy of General Dentistry, and American Association of Cosmetic Dentistry. Drs. Lee and Cardinale offer a full range of services with many years of experience.
---
Amanda Riordan D.M.D.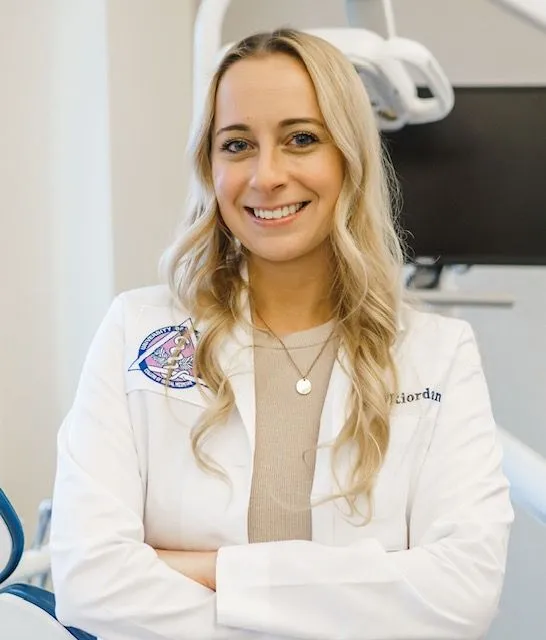 Dr. Amanda Riordan is a Boston native and earned her bachelor's degree in Biology from the University of Massachusetts Amherst. After working for several years in medical diagnostics, she earned her D.M.D at the University of New England College of Dental Medicine in Portland, Maine where her training focused on excellence in patient care, researched-based clinical practices, professionalism, and the most up-to-date technology.
Dr. Riordan's appreciation for dentistry came from being able to connect with patients and enjoying the process of helping to make smiles that will last a lifetime. She is dedicated to providing patient-centered treatment tailored specifically for you and hopes to make each patient's dental experience a positive one. Having worked in the back office of Dedham Dentist in high school, she is enthusiastic about rejoining the team as a provider.
When Dr. Riordan isn't taking care of her patients, you will find her exploring the great outdoors with her husband, cooking, and reading.